Most of us say we would love to read more if we had more time, our wish has been granted! This is a great time to cozy up in your favourite chair, grab a hot cup of coffee or pour yourself a glass of wine and grab your favourite book. We've been doing just that! Taking time to yourself at a time like this is just important as it was before, if not more important. Some of us have kids running around, animals all over, and you can only clean so much.
We thought this would be a perfect opportunity to share some of our favourite books that we've been reading this year, and well, now re-reading!
The One Thing by Gary Keller: This one is a bit of an obvious choice as we both love real estate but this book is great for those who want to dial in their goals and find that One Thing that will help them to making the biggest difference in achieving your goal. If you didn't know, Gary Keller was one of the founders of Keller Williams. Believe it or not, Keller Williams was actually born during a recession, so they must have done a thing or two right. In this book, he says that success comes from choosing and doing the right things sequentially, each connected to and building on the previous one, rather than doing a lot of disparate things, regardless of value, simultaneously.
Start With Why by Simon Sinek: Another great book that asks; why are some people and organizations more innovative, more influential and more profitable than others? Why do some command greater loyalty from customers and employees? Even among the successful, why are so few people able to repeat their success over and over? Sinek studied leaders who have had great influence in the world and discovered they all think, act and communicate in the same way. This led to the creation of what Sinek calls the Golden Circle, providing framework in which organizations can be built but more importantly this all starts with WHY. Those who start with Why never manipulate, but inspire.
Atomic Habits by James Clear: we all have our own habits, probably some great, some good, and unfortunately, we all have a few bad habits that we would like to break. Atomic Habits helps in providing a framework that will help to improve – everyday. Clear is one of the most notable experts on habit formation. We know this might be a little harder to implement right now, as I am sure we all have more bad habits than we'd care to admit. But this book might be perfect for you! As clear says, if you're having trouble changing your habits, the problem isn't you. The problem is the system. Bad habits repeat themselves again and again not because you don't want to change, but because you have the wrong system for change. This book gives you a strategy that can help take these habits to new heights!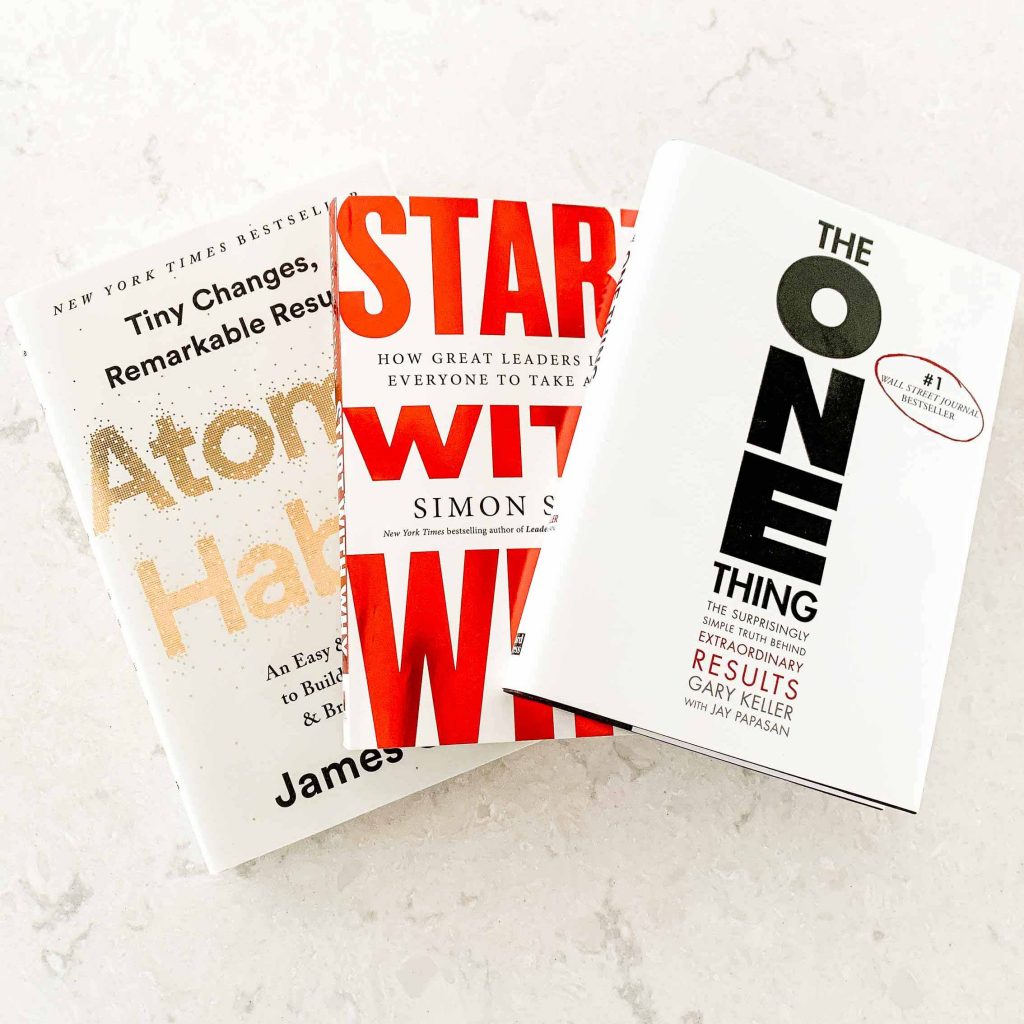 Improving yourself can be a daunting task sometimes, and our habits (see what we did there) can get in the way of this as we can procrastinate the time to do it. But now, while we have some free time, or have more opportunity to carve out some free time, is a great time to better yourself.
All of these books are a great and easy read, so don't worry about pouring that glass of wine before you open the book up. The best part is their all available on Amazon and can be purchased on Kindle or can be delivered right to your door. We're old-school and much prefer the a physical copy, but if you prefer an e-reader or even have the kindle app on your ipad or computer, we hope you enjoy it!