Trying to figure out what to do for dinner tomorrow night? Nothing beats pizza night! Bust out the Dean Martin, pour a glass of wine, put your apron on, and crank up the oven.
If you're like us, a good homemade pizza can do just the trick. It's not just a great meal, but it's entertaining. Get the family involved, have the kids help make the dough, and everyone can make their own pizzas!
Directions
MAKE THE PIZZA DOUGH Whisk together the all-purpose flour, salt, and yeast in a large bowl. Stir in the water with a wooden spoon until well combined, using your hands if needed to work in all the flour. Cover the bowl tightly with plastic wrap and let sit at room temperature for 18-20 hours. The dough should double in size.
MAKE THE TOMATO SAUCE In a medium, deep bowl, blend the tomatoes with their juice, the basil, oregano, and salt with an immersion blender. Set aside.
ASSEMBLE THE PIZZAS Place a pizza stone on the top shelf of the oven and preheat to the highest setting. Let the stone heat for an additional 20 minutes after the oven has reached its temperature. If you do not have a pizza stone, you can use a rimless or upside down baking sheet.
Gently deflate the dough by pushing it down with your hands. Generously sprinkle a work surface with semolina flour, scape the dough onto it and divide the dough into 6 to 8 equal portions and shape them into balls.
Dust 1 ball of dough with more all-purpose flour. Using your hands, stretch out the dough into a circle that is about 12-inches in diameter. It doesn't have to be perfect or exact, the more rustic the better!
Generously sprinkle semolina flour on a pizza peel if you have one (if you don't, simply use a rimless baking sheet). Place the prepared pizza dough on the peel or baking sheet and evenly spread a thin layer of tomato sauce over the dough, stopping about ½ inch from the edge. Scatter the toppings of choice on the pizza, be careful not to overload it, and finish with a small handful of grated cheese (if using). Repeat with remaining pizzas.
To transfer the pizza to the stone, place the peel over the stone and quickly pull it back towards you. (Or lift it out of the hot baking sheet, slide the pizza onto it, and return to the oven). Bake until the crust is golden brown and the cheese bubbles, 7 to 9 minutes.
Use the pizza peel to transfer the pizzas to a large cutting board. Cut into wedges and serve.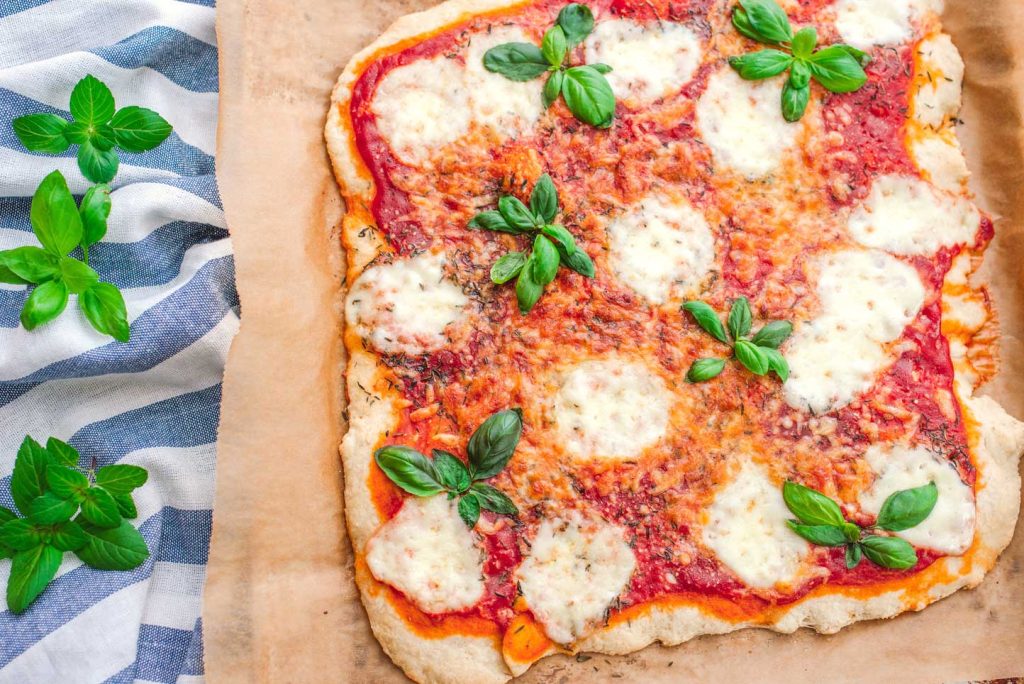 Ingredients
Pizza Dough:
5 ½ cups of all purpose flour, plus extra for dusting
1 tablespoon salt
½ teaspoon active dry yeast
2 ½ cups water, at room temperature
Semolina flour, for dusting
Tomato Sauce:
1 can good quality whole Italian tomatoes
¼ cup fresh basil leaves
1 teaspoon dried oregano
1 teaspoon sea salt
Favourite Topping Combinations
Olive oil, mushrooms, thyme, goat cheese or asiago cheese (no tomatoes)
Vegan mozzarella cheese, fresh tomatoes, basil
Veggie ham, vegan mozzarella cheese, red onion, pineapple, fresh cilantro
Pesto, chicken, red onion, mozzarella
Green peppers, olives, sweet onion, fresh tomatoes, hot pickled peppers
Olive oil, sliced pear, thyme, brie, finish with a drizzle of honey after baking (no tomato sauce)