I don't know about you, but as soon as those leaves turn red, yellow and orange, all I seem to want is soup and root vegetables. Maybe it's the cooler weather, maybe it's the pumpkins and fall festivities…but whatever it is, I need to satisfy that craving ASAP.
Another great part about fall is that I dust off my handy dandy crockpot that I always seem to forget about over the summer and start putting it to good use again. For those of you who have never tried a crockpot or have one buried somewhere under your old wedding gifts in your basement, let me list the reasons why my crockpot might just be my favourite thing in the world (don't tell my husband I said that).
You throw everything into one pot which means almost ZERO dishes
The crockpot motto is "set it and forget it" … okay that's not actually a thing but it should be
Everything cooking together in one pot all day long means we're going to FLAVOURTOWN BABY!!
As my fellow crockpot connoisseurs will know, soup is one of the easiest things to make in a crockpot. Now that I'm working from home more, I love prepping the ingredients on my lunch, throwing them into the crockpot and then having dinner ready by 5 pm. Your littles can even help you measure the spices and add ingredients to the crockpot, too.
This Autumn Harvest Soup is no exception to this crockpot routine. This is one of my favourite fall soups to make as it combines delicious fall vegetables like butternut squash, sweet potatoes and apples with warm flavours like cinnamon, curry and nutmeg. My mouth is watering just thinking about it.
 The cool part about this soup is that you don't have to follow the recipe exactly for it to still turn out well. For example, last time I made this I didn't have any apples in the house…but I did have applesauce. I threw in about ½ cup and it was still delicious. I also didn't have a butternut squash, but I did have an acorn squash. I swapped in the acorn squash and it was just as tasty! So have fun and play around with the flavours, because can you really go wrong when you're making soup??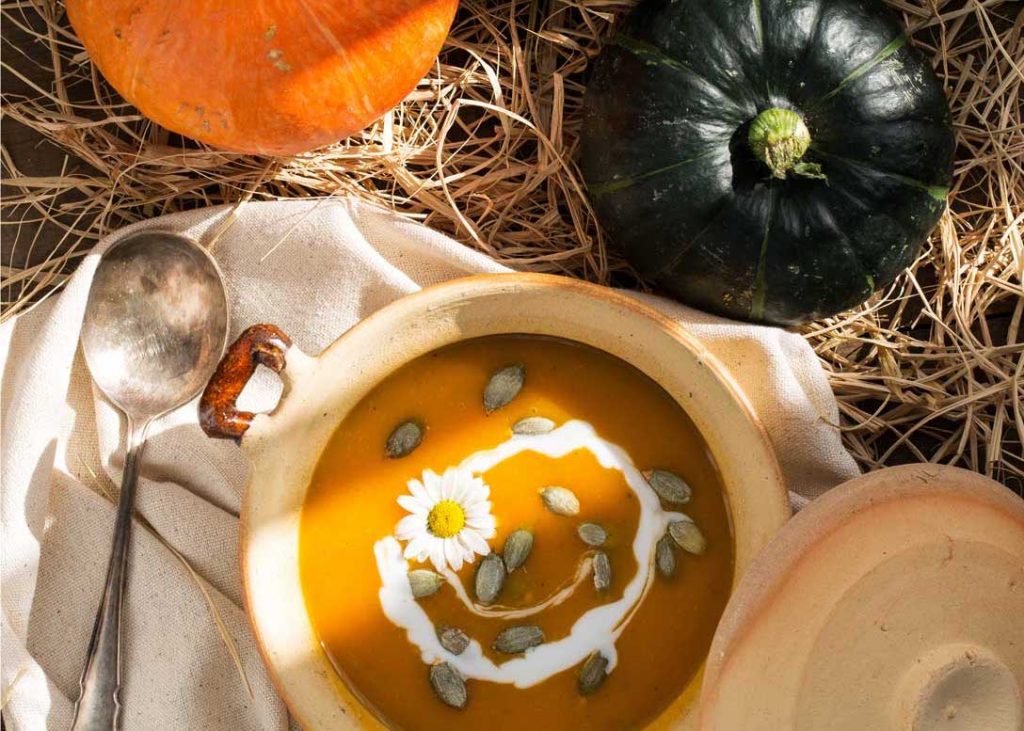 Ingredients:
1 tablespoon canola oil
2-3 garlic cloves, minced
1 yellow onion, diced
1 medium butternut squash, peeled and cubed (5-6 cups)
1 medium sweet potato, peeled and cubed (1 cup)
1 green apple, peeled, cored, and cubed
3 cups low-sodium vegetable or chicken broth
1 teaspoon cinnamon
1/2 teaspoon curry powder
1/4 teaspoon ground ginger
pinch nutmeg
1 teaspoon salt
1/2 cup coconut milk
Directions:
Heat oil in a frying pan over medium-low heat. Add garlic and cook until fragrant, about 1 minute. Add onion and cook until translucent, about 5-7 minutes.
Add cooked onion and all remaining ingredients, except coconut milk, to a large crockpot. Cook on high for 3-4 hours, or on low for 6-7 hours, until squash and sweet potato are soft.
Use an immersion blender to puree everything in the crockpot until smooth (this takes about 4-5 minutes).
Add coconut milk and mix with immersion blender for another 1-2 minutes. Enjoy!
Serve this creamy goodness topped with pumpkin seeds and a side of your favourite crusty bread (I love the crusty cranberry pumpkin seed loaf from Farmboy – it's delish). This is comfort food at it's finest (and healthiest, too!).