Before we get into this delicious Crunchy Cucumber Dill Salad Recipe, I should formally introduce myself! Hey there! My name is Sydney, I'm the Registered Dietitian for the Zehrs Stratford, Listowel and Goderich stores in Ontario. Although I am based out of the Stratford area for work, I am born and raised in Brantford. Rise Realty has been close to my heart for a long time now, so I'm thrilled to be able to give back to such a wonderful women-run business. Nothing says home like delicious food, so I'll be doing monthly blog features for Rise Realty where we will highlight a new recipe and talk about some of the health benefits of each one. 
A bit about me – I love food, being outdoors (either on a patio or on a trail), am an avid DIYer and love to cook. You'll generally either find me snacking on something, wandering Homesense or browsing recipes online.
Now, without further ado, let's dive into this month's recipe! There's nothing like a refreshing salad on those hot days when you don't want to turn on your oven. This Crunchy Cucumber Dill Salad is a perfect side to any BBQ'd main dish because it's light, fresh and can be prepared ahead of time. Plus – if you grow dill in your garden, then this recipe is perfect for using up some of those overgrown herbs!
This recipe is super simple, and the ingredients are easy to find, which is exactly what I love when I cook. The dressing uses a plain Greek yogurt base, which bumps up the calcium content of this salad – something that your bones will love! The addition of white vinegar with a pinch of sugar, fresh dill and garlic create a mouth-watering tangy dressing that is great to use even on pitas, wraps or as a veggie dip. That's right, you've basically got two recipes in one here!! 
Here's the recipe for Cucumber Dill Salad: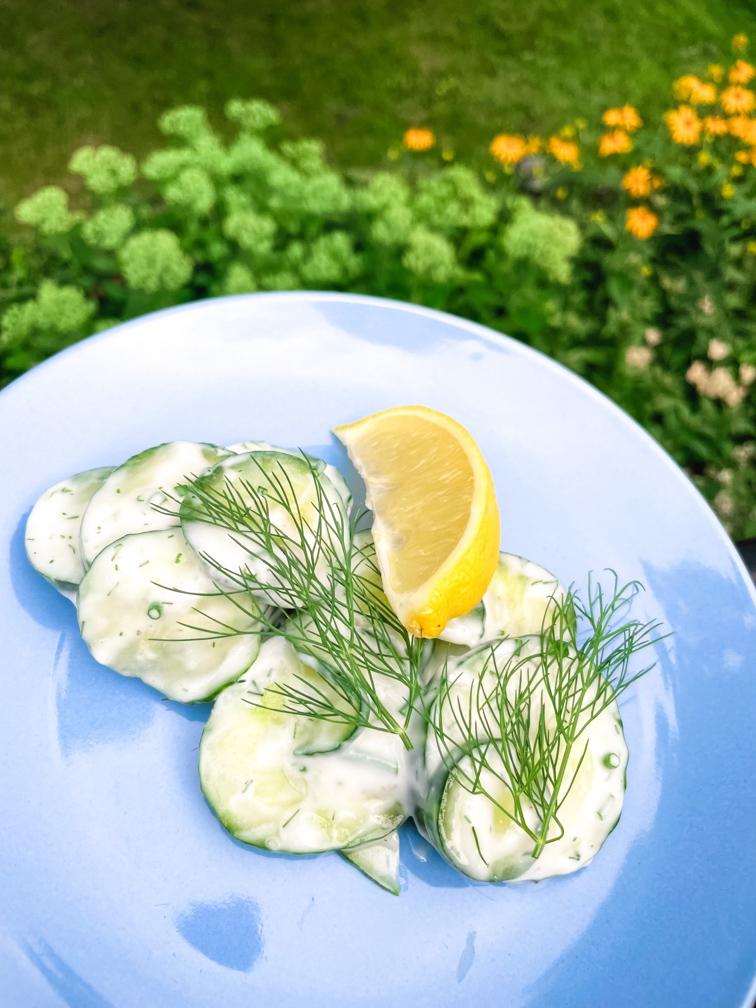 Crunchy Cucumber Dill Salad
Ingredients:
2 cucumbers, thinly sliced
½ onion, thinly sliced (optional)
1 large garlic clove, minced
Salt and pepper to taste
¾ cup plain Greek yogurt (can split quantity with some sour cream, if desired)
½ tbsp sugar
1 ½ tbsp white vinegar
1 tbsp fresh dill, chopped
Directions:
Add sliced cucumbers to a large bowl and season with ½ tsp of salt. Let rest for approximately 20 mins, then drain excess liquid from the cucumbers by gently squeezing the slices with paper towel and pouring off the liquid. 
Add yogurt/sour cream, garlic, sugar, vinegar, dill, salt and pepper to a medium bowl. Stir to combine. Taste and adjust herbs and seasonings accordingly. 
Pour dressing over the cucumbers. Add sliced onion, if using, and stir gently to combine.
Pop in the fridge until cold or serve immediately. Enjoy!
Tips: If you're following a plant-based diet or you have a dairy intolerance/allergy, you can definitely make this recipe into a dairy-free cucumber salad with a dairy-free Greek style yogurt. PC makes a great dairy-free version of Greek yogurt, or another one of my favs is the plain Riviera dairy-free yogurt.
I also added chives to my salad, as they're getting out of control in my garden! This salad really shines with any fresh herbs that are added, so I say the more, the better!
So, there you have it. A simple, easy and refreshing side for a hot day. Wow your friends and family with this recipe at your next get together, or enjoy on a weeknight at home. The best part about this recipe is that it's quick, it's versatile and, most importantly of all, it's delicious.