It's no secret, we love everything about this time of year! The leaves are changing colour, the nights are cool making it perfect for sitting around a warm campfire, and its soup season. There's something about the seasonal vegetables of fall that just make you want to relax and unwind. The pumpkins, squash, yams, thyme, rosemary and sage… It's perfect. Chances are if you're visiting a grocery store, a local farmers market or just driving down a country backroad you will see plenty of squash for sale. This roasted butternut squash soup tastes like fall.
This recipe was originally posted on pinterest back in 2015 and has become so popular and for great reason! Its super easy to make and tastes amazing. It is full of butternut squash and some extra sweetness from the carrots, with a tiny bite of cayenne pepper. It's also perfect for those who are gluten free and lactose free as there is no cream, milk or butter. However, the soup is super creamy thanks the lovely texture from the butternut squash. It can be challenging to find a good soup that is creamy and doesn't have dairy. Especially if you or someone you know has recently discovered they have a lactose allergy.
Here's the recipe for Roasted Butternut Squash Soup: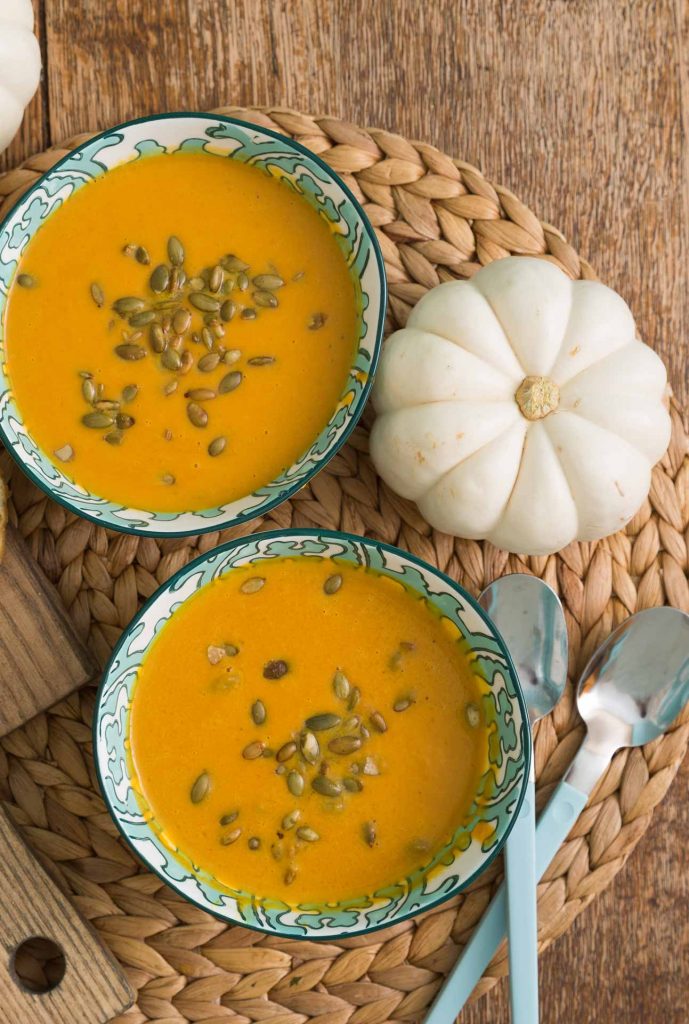 Roasted Butternut Squash Soup
Ingredients:
Butternut squash
Carrots
Celery
Onion
Garlic
Fresh herbs – sage, thyme, rosemary. You can substitute with dry herbs – if you do, use half the amount.
Cayenne red pepper powder
Salt and pepper
Olive oil
Vegetable stock
Directions: 
Prep the vegetables: Peel, pit and chop the butternut squash into 1 inch squares. Chop the carrots, celery and onions in big chunks. Peel the garlic keep the cloves whole or halved. Add everything into a large half sheet baking pan.
Season the vegetables: Add the herbs with stems removed (it will be easier to puree later if stems are removed, especially for the thyme), red pepper powder, salt and pepper. Add olive oil and toss to coat.
Roast the vegetables: Roast for 1 hour in a preheated 350 F oven, until veggies are soft and fork tender. To check if fork tender, insert a fork into the vegetable. If it comes out easily, then it is fork tender and done. You will want to check the carrots in particular, as they may take the longest to cook. If the vegetables are not soft and fork tender, then cook for another 15 minutes. Keep checking every 15 minutes.
Puree the vegetables: Transfer cooked vegetables to a food processor or heavy duty blender with 1 cup of vegetable stock and puree until smooth and creamy, or until desired consistency is reached. You may need to do this in a couple batches.
Simmer: Pour the mixture into a large cooking pot. Add the remaining vegetable stock and stir well. Simmer on low for 10 minutes. If the consistency of the soup is too thick, just thin it out with some water until you reach your desired consistency.
Serve: Garnish with extra fresh herbs and chopped nuts on top, and a drizzle of cream (optional) and serve.
There you have it! So simple and such a delicious soup to have and make on a rainy fall day. We promise that this soup will not disappoint. Plus, you can make it ahead of time and simply re-heat it on the stove over medium-low heat. A little side note if you plan on doing this, it may thicken when you put it into the fridge so if it is too thick after re-heating it, simply add a bit of water to make it a consistency that you like. Tips: If you're following a plant-based diet or you have a dairy intolerance/allergy, you can definitely make this recipe into a dairy-free cucumber salad with a dairy-free Greek style yogurt. PC makes a great dairy-free version of Greek yogurt, or another one of my favs is the plain Riviera dairy-free yogurt.