Looking for a delicious French Onion soup recipe? Look no further! This time of year, cooking can be more of a hassle than a joy. It's after Christmas, the weather isn't all the great and motivation might be lacking in general. We turn to soup! After a cold wintery day, there's something about a warm cup of soup that just warms you up and lifts your mood completely. Comfort food! 
French onion soup is perfect comfort food! You get the best of everything, some crunchiness from the onions, the warm bread, and the gooey melted cheese! A spoonful of French onion soup is guaranteed to be that cold evening pick me up we all need. The best part of about French onion soup? It's so easy to make it's also one of the most affordable soups you can make.
It's a simple as some caramelized onions, beef broth, wine and topped with bread and cheese. Absolutely delicious! French onion soup has been around for a while, it dates back to the 18th century. When we think of French onion soup, we think of elegant and fancy. It's commonly served at a lot of steakhouses due to the beef broth being the base of the soup. Believe it or not, French onion soup started out as a peasant food.
There are many French onion soup recipes and to be honest, you can pretty much throw it together without looking at a recipe. However, we turn to Julia Child for her classic take on a French onion soup. The key to this? Caramelizing the onions for about 40 minutes! Since you're going to be adding some wine to the soup, why not pour yourself a glass to enjoy while you're doing this? Okay, let's get to it! Here's the list of ingredients you will need to get started. If you're looking for a different soup to try, check out our Roaster Butternut squash soup recipe.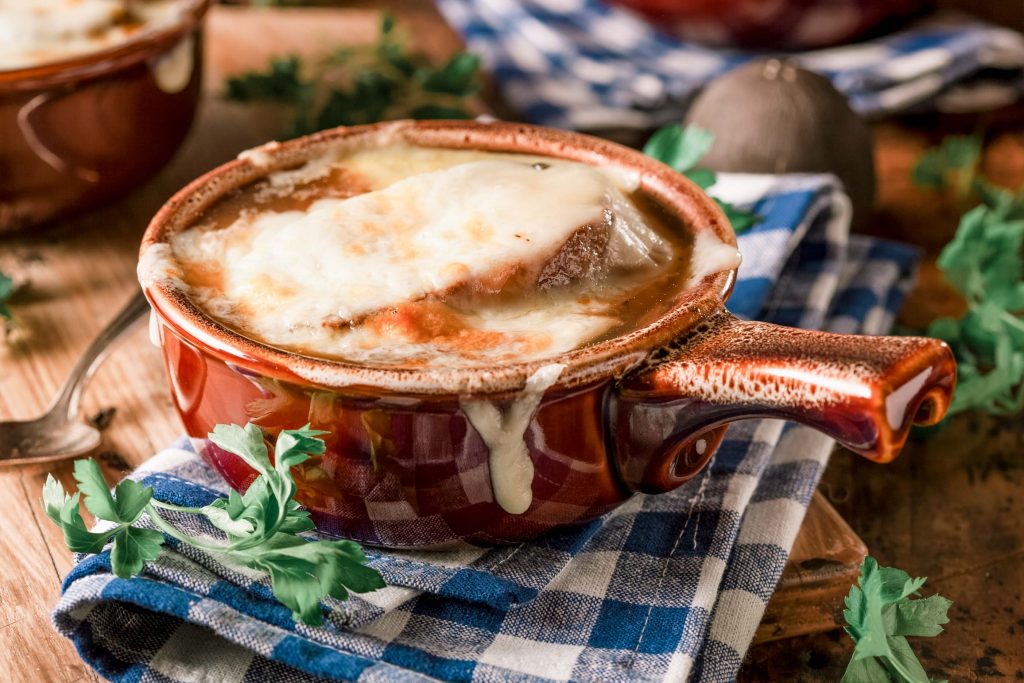 Onions – classic French onion soup calls for yellow onions, but you can use white or red.
Butter – this is so important when it comes to caramelizing the onions. Alternatively you can use margarine if needed.
Flour – the flour is pretty self explanatory, it is what will create the depth of the soup.
White wine – a little bit of white wine in the pan as you caramelize the onions will help to prevent the onions from sticking and deglaze the pan.
Beef Stock – the flavour base of the soup. A reduced salt beef stock will work fine as well.
French bread – this is a must for French onion soup, it's the iconic topping.
Cheeses – This recipe calls for Swiss & Parmesan cheese, but you can also use whatever mild and melty cheese you want.
Ingredients:
5-6 cups of yellow onions, thinly sliced
1 tablespoon of cooking oil
2 tablespoons of butter
½ teaspoon of sugar
1 teaspoon of salt
3 tablespoons of flour
6 cups of beef stock
½ cup of dry white wine
8 slices of French bread, about 1 inch thick
4 tablespoons of olive oil for drizzling
Salt and pepper to taste
½ raw yellow onion, grated
12 ounces of Swiss cheese, grated
4 ounces of Parmesan cheese, grated
Directions:
Place a heavy-bottom stockpot or dutch oven on a stove over medium-low heat. Add cooking oil and butter. Saute onions until evenly coated with oil and butter.
Cover the pot and let it sit until onions are soft and translucent, about 20 minutes. For caramelized onions, turn the heat to medium or medium-high. Stir in sugar and salt and cook uncovered, stirring often until onions are browned and reduced.
Reduce heat to medium-low and stir in the flour. Stir for 2-3 minutes, or until the flour and butter form a thick paste. If paste not achieved, add more butter.
Mix in 1 cup of warm beef stock. Scrape the bottom of the pan to prevent scorching. Stir in the remaining stock and wine. Let the soup simmer for 30 minutes.
For the croutons or toasted bread, preheat your oven to 325 degrees F. Drizzle bread with olive oil and place on a baking sheet. Bake the bread for 15 minutes at 325 degrees F. Flip the slices over and bake for another 15 minutes.
Once the soup has simmered, preheat your oven to 350 degrees F.
Salt and pepper to taste.
Pour the soup into a casserole dish. Stir the 1/2 raw onion (grated), and a few ounces of Swiss cheese.
Top the soup with toasted bread in a single layer. Top the bread with the remaining Swiss and Parmesan cheese. Be sure all the edges of bread are covered to avoid burning. Drizzle with oil or melted butter.
Bake the casserole at 350 degrees F for 30 minutes. Turn on the broiler and brown the cheeses.
Let the soup cool for a few minutes before serving. Enjoy!