Labour day weekend has come and gone! It feels like as soon as Labour Day arrives, we instantly get that fall feeling, typically cooler nights, shorter days and busier schedules meaning you likely won't be spending as much time out on your patio as much. But why not? Our summers are short in Ontario, we have to make the most of our patio season. There are plenty of ways you can extend your patio season!
Whether you're hosting a backyard get-together with friends and family, or just need a night to relax and enjoy the quietness of the outdoors. Patios are not just that, they are an extension of living space if used correctly. Enjoy your patio more this fall with a few little upgrades!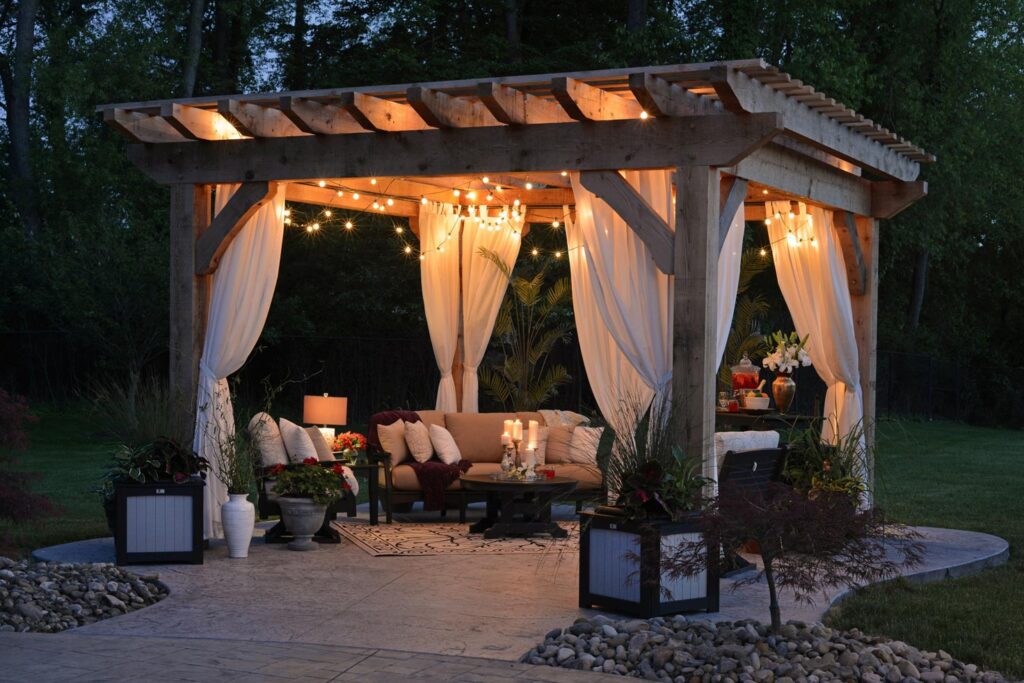 1. Add barriers
Often in fall, we get cool breezes which for some can make sitting outside almost unbearable. Especially after we've become so used to that warm summer breeze. Adding barriers can help to block the wind and some shelter from the elements. Whether they be accent walls or a gazebo. A gazebo is a great option because it serves the purpose of shade in the summer and in the fall, with the addition of some curtains can really help to block out wind and keep warmth in. A more natural barrier would be some strategically planted shrubs! Just make sure you consider the growth so they don't look over crowded as they grow. 
2. Heaters
This is a game changer! Patio heaters have really evolved a lot over the past 5 years. There are more than just those stand up heaters with the propane tank in the bottom now. There are electric patio heaters that can be mounted on a ceiling or pergola which offer plenty of indirect heating. Of course the free standing patio heaters are another great option. Whether you opt for a more decorative piece or the classic look, a bit of indirect heat in the fall will be sure to extend your patio season.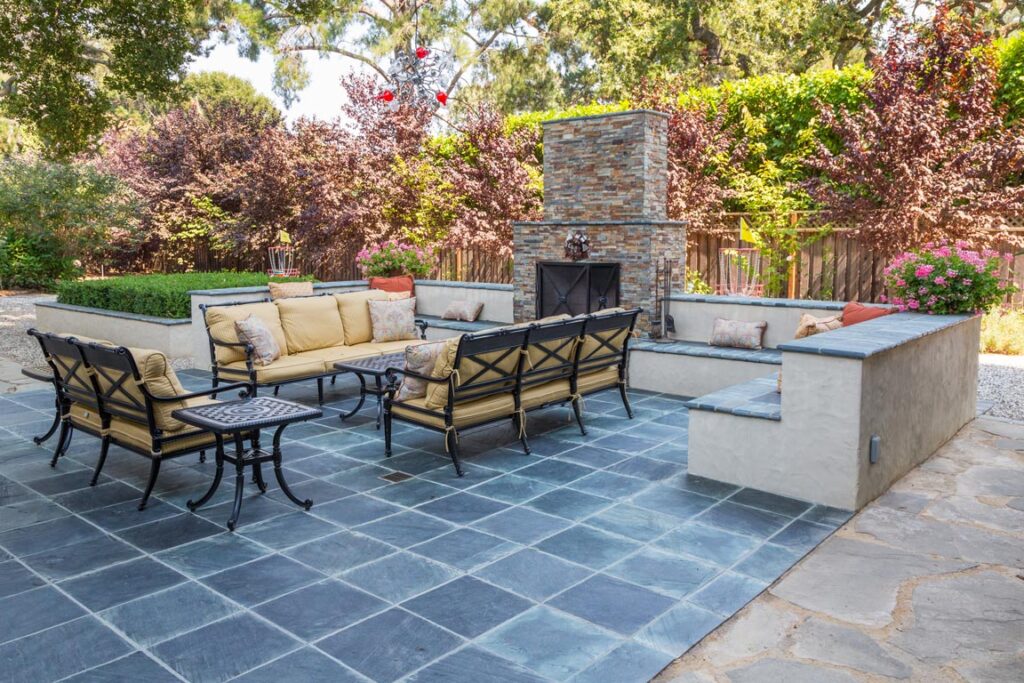 3. Cozy fireside
A fall without a fire just doesn't feel complete! Whether you opt for a gas fireplace, a propane power fire bowl or the real thing! It not only offers plenty of warmth but can be a great design feature that can be used in the fall, summer and spring. Remember to check your local bylaws before purchasing any type of fire pit to make sure its allowed and safe. 
4. Snuggle up
Chances are you already have some blankets around the house! Blankets are a great way to extend your patio season. Not only are they stylish, but they can also keep you snug and warm in the cooler weather. We always keep a large basket handy with blankets specifically for outside. This way we don't have to worry about anything getting in the house. They are washed separately too.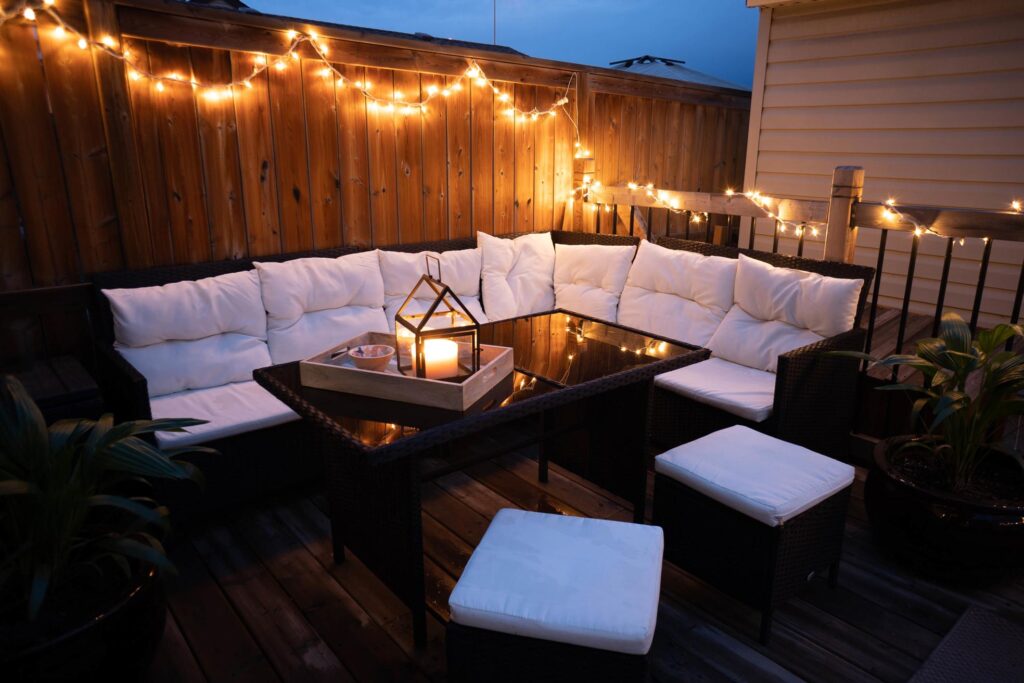 5. Lighting
The days are getting shorter and shorter, we can't believe its pretty much dark by 8:00 PM now. Unfortunately, this is only going to get worse. Extend your patio season with some landscape lighting. There are so many options when it comes to outdoor lighting, whether you opt for solar lighting or low-voltage lighting. Solar lighting offers a variety of different options for indirect and direct lighting. A variety of different lights can really transform your space into a magical space. 
6. Furnishings
If you plan on spending a lot of time outdoors, investing in good quality outdoor furniture is worth the investment. Not only does it last longer, but it is typically designed with more comfort and style, which will make you want to spend more time outside! The biggest thing is looking for weather resistant pieces such as polyresin wicker, hardwoods like teak and oak, wrought iron, and powder-coated steel and aluminium, which will reduce the likelihood of rust, fading, mould, or warping. Weather-resistant fabrics and cushions are also essential. Lastly, you can protect your investment and prolong the life of your furniture by using covers or storing cushions in a garden shed or garage until you're ready to use them.
7. Hot tub
This one barely made the cut and we're not telling you to go and drop a ton of money on a hot tub, but if your budget permits a hot tub can really extend your outdoor experiences all year round. Whether you're entertaining some friends or are just looking for an escape to yourself.
Spending time outside is really important and as the seasons change we often get busy and forget that there is still plenty of opportunity to enjoy the outdoors! The biggest thing is making a space enjoyable, if you don't like It, you won't spend time outside.