Are you searching for the perfect place to call home? Look no further than Brantford, Ontario! Nestled in the heart of southwestern Ontario, this vibrant city offers a myriad of reasons why it should be at the top of your relocation list. Brantford is experiencing a remarkable surge in popularity, attracting individuals and families from neighboring cities and beyond. In this blog, we'll explore the key factors that make Brantford an exceptional choice for those seeking a thriving community, excellent amenities, and a high quality of life.
1. Location, Location, Location
Situated conveniently close to major urban centers such as Toronto, Hamilton, and London, Brantford strikes the perfect balance between a tranquil small-town atmosphere and easy access to big-city amenities. With its strategic location along the Grand River, residents enjoy breathtaking natural landscapes, parks, and recreational activities while still being within a short drive of bustling urban areas. It's the best of both worlds!
2. Affordability
Brantford's real estate market offers incredible value compared to nearby cities. Housing prices are more affordable, enabling individuals and families to secure their dream homes without breaking the bank. Whether you're searching for a charming heritage property, a modern suburban dwelling, or a peaceful rural retreat, Brantford has a diverse range of housing options to suit various budgets and preferences.
3. Thriving Job Market
Brantford is home to a robust and diverse economy, creating ample employment opportunities across various sectors. The city boasts a healthy mix of industries, including advanced manufacturing, healthcare, education, technology, and more. With ongoing investments and initiatives, Brantford's job market continues to expand, ensuring a prosperous future for residents and newcomers alike.
4. Excellent Education
Education is a top priority in Brantford, with a wide range of educational institutions and resources available. The city is home to renowned post-secondary institutions, including Wilfrid Laurier University and Conestoga College, providing excellent opportunities for higher education and professional development. Additionally, Brantford's school system offers exceptional primary and secondary education options, ensuring a bright future for children and families.
5. Cultural Richness and Community Spirit
Brantford embraces its rich history and vibrant culture, offering a plethora of artistic, cultural, and recreational activities for residents to enjoy. The city is known as the birthplace of the legendary Alexander Graham Bell, and you can explore his legacy at the Bell Homestead National Historic Site. From art galleries and museums to community festivals and events, there's always something exciting happening in Brantford, fostering a strong sense of community and belonging.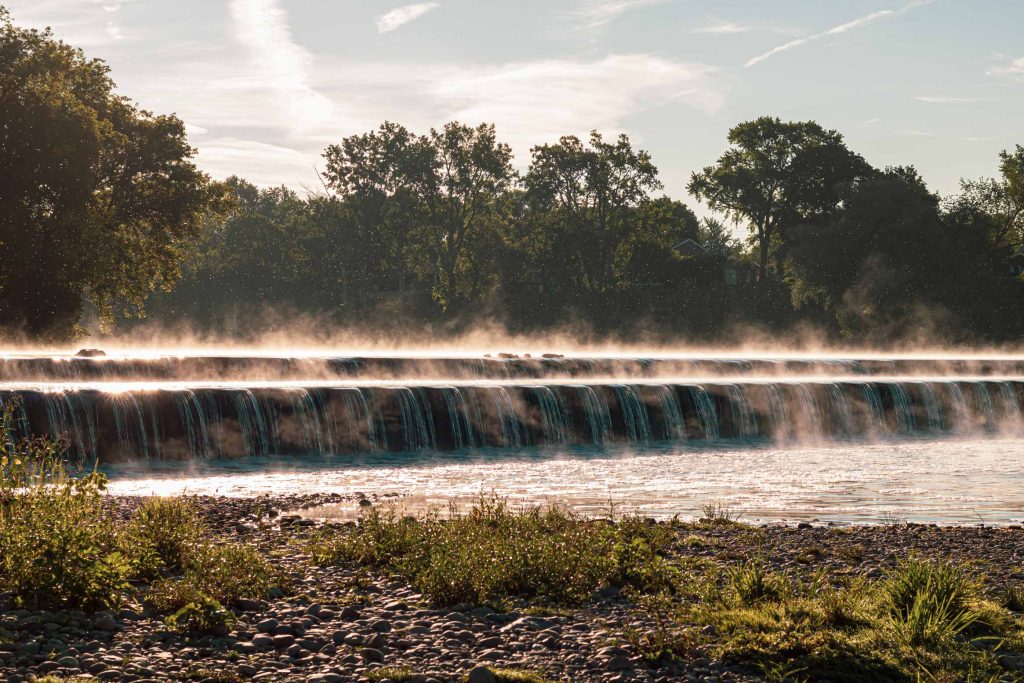 6. Nature's Playground
Brantford is a nature lover's paradise. With its stunning landscapes, extensive trail networks, and proximity to the picturesque Grand River, outdoor enthusiasts will find an abundance of recreational opportunities. Enjoy hiking, cycling, kayaking, or simply basking in the tranquility of nature. Brantford's parks and green spaces offer a serene escape from the hustle and bustle of everyday life.
Brantford, Ontario, is experiencing a remarkable transformation, attracting newcomers from far and wide. Its prime location, affordability, thriving job market, excellent education, vibrant culture, and abundant natural beauty make it an ideal destination for those seeking a high quality of life. Whether you're looking for a close-knit community, a place to raise a family, or an escape from the urban grind, Brantford has it all. Embrace the opportunity to join the Rise Realty Group and make Brantford your home, where dreams flourish and the possibilities are endless. If you're curious about moving to Brantford, get in touch with us today! We know the local market extremely well and can help you find your next home in Brantford.